American software company to create 58 new jobs in Belfast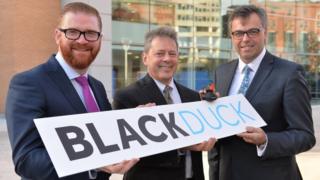 An American computer software company is creating 58 new jobs with the opening of its first office in Belfast.
The posts, at Black Duck Software, will have average salaries of £37,000 and are set to be filled over four years.
The US software firm is the latest of a number of overseas companies, in the field of cyber security, to set up in Northern Ireland.
Company chief executive, Lou Shipley, said there is "a depth of security research talent that fits our needs."
He described Northern Ireland as "the optimum location."
Invest NI is offering financial support of £377,000.
The Northern Ireland Executive is promoting the region's reputation in software and cyber security.
Queen's University and Ulster University both produce graduates in computer science.