Danielli charges: Judge urges talks ahead of rugby couple's trials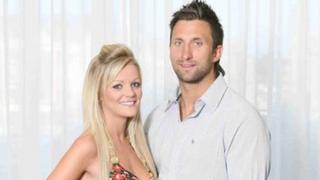 Lawyers for a high-profile rugby player and his estranged wife, who both face charges after a dispute, have been told by a judge to "get together" for talks.
Simon Danielli, who played for Scotland and Ulster, and his wife, Olivia, have made accusations against each other that have led to criminal charges.
Mr Danielli is charged with assaulting his wife, her friend and damaging a mobile phone on 11 March 2015.
Mrs Danielli is charged with criminally damaging his Jaguar car in August 2015.
'Difficult'
The pair live separately at addresses in Holywood, County Down.
Both prosecution cases were listed at Newtownards Magistrates' Court on Tuesday, when it was expected that dates for their trials would be set.
However, Mr Danielli's solicitor asked for his case to be adjourned to allow time for his legal team to consider lodging an abuse of process application.
The judge told the court that he would deal with the trials "chronologically" but said the charges brought by the Public Prosecution Service (PPS) had caused "difficulty".
"It is difficult to see how they will say 'we will stand him as a witness of truth' and then on the other hand, stand her as a witness of truth," said the judge.
"Witness of truth one day and liar the next... it's hard to ride several horses in the race."
He told the lawyers he had a "suggestion" for them all to get together with the PPS and "talk about a binding over [order] as a potential outcome".
Mr Danielli, who is 37, retired from rugby with a back injury in 2012, after 32 appearances for Scotland and 78 for Ulster
Mrs Danielli is a former model and a mother of three.