Owen Creaney murder: Court hears kitchen knife held to victim's throat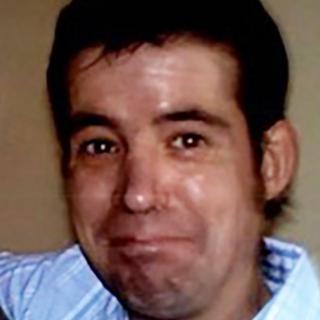 A trial has been told that a kitchen knife was held to the throat of a murder victim whose body was found in a bin.
The claim was made on the first day of evidence by a woman who is jointly accused of murder.
Shauneen Boyle, 25, from Banbridge, and Stephen Hughes, 30, from Craigavon, are jointly charged with murdering Owen Creaney in Craigavon, County Armagh, in July 2014.
On Tuesday, the trial was told that the two accused, and the victim, had been drinking together a number of times in the days before Mr Creaney was attacked and died.
Belfast Crown Court heard that on the evening before the victim was assaulted, all three had been drinking together for several hours.
First at Mr Creaney's house in Lurgan, then at the home of a close relative of his, before eventually going to the house where he was assaulted - the home of Stephen Hughes in Craigavon.
According to taxi records, it was between 02:00 and 03:00 BST when they arrived at the house at Moyrafety Court.
On the witness stand, Shauneen Boyle said they were all "fairly drunk, very drunk".
She described how Mr Hughes had lost his temper during an argument and began punching the victim in the face.
Ms Boyle said she then tried to get the victim out of house through the back and front doors, but both were locked.
She told the judge that Mr Hughes then kicked and stamped on Owen Creaney as he lay on the hallway floor.
'Butcher's knife'
During the attack, Ms Boyle said her co-accused went to the kitchen and returned with a knife.
She said it was "like a butcher's knife" and was about 8 to 9 inches long.
The court heard her describe how Mr Hughes held it to Mr Creaney's throat and how she cut her fingers when she grabbed it off him.
Defence counsel for Mr Hughes challenged the evidence, saying the claim about a knife being held to the victim's throat had not been mentioned by Ms Boyle in a previous statement or during a police interview.
Tuesday's evidence came a day after Mr Hughes told the court that the assault was carried out by Ms Boyle.
Mr Creaney died two days after being attacked and his remains were then dumped in a recycling bin.
The trial continues.