Life on Lyrica: A user's perspective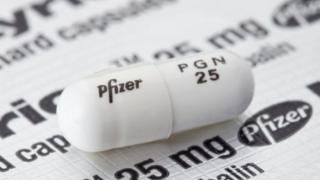 Geoff Savage is a drug counsellor who works in Armagh, Banbridge and Craigavon Borough Council area.
I work in drug and alcohol education and awareness but this is hard for me to talk about because I am also a prescribed user of Lyrica.
I was a drug addict myself and in 2006 was shot three times. I got in a bad way and was not meant to survive. The artery in my left leg was severed, so I have limited use of the leg.
I'm on 1,200mg of Lyrica. It's been prescribed by a consultant as it's more than a GP can prescribe.
The pain is debilitating. There are days I cannot function properly and it does help with the pain and trauma.
But, there's a belief around drugs prescribed by professionals - that they're safe and not harmful.
Prescribed drugs can sometimes be more serious if they're not taken properly.
Being someone who takes it, I know the dangers with it. I once overdosed by accident. I was out of my head.
When you take it, you get a feeling like euphoria. But after half an hour that feeling fades. When the drug weans out of your system, you feel depressed again.
The pain can come back 10-fold. I've had hallucinations on the drug, I've had violent outbursts.
It can't be taken for granted. If people don't need it, it should not be being prescribed.
It should only be for worst-case scenarios.