Former drug user says prescription drug abuse is 'wrecking lives'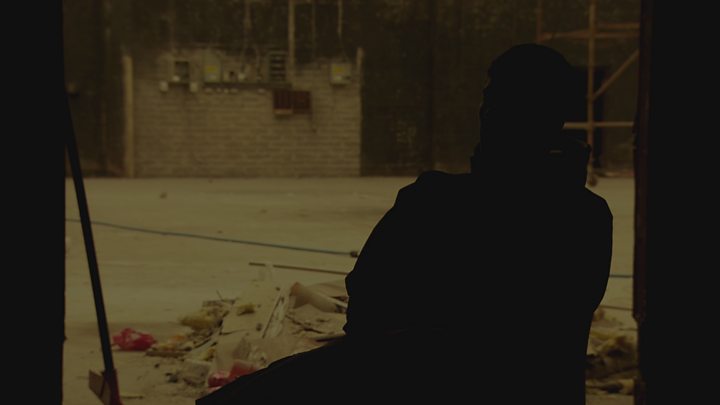 An ex-drug user who lost his teenage friend to suicide after a battle with drugs has said abuse of a prescription medication is "wrecking lives".
Pregabalin is an anti-epileptic drug also known by its brand name, Lyrica, or its street name, 'bud'.
The Belfast teenager, who spoke anonymously to BBC News NI, said he first took the drug when he was 16.
He claimed it is now easily available to buy on the streets and widely used by people in his community.
'Zombie'
"The first time I tried it, I'm not going to lie, it was a nice hit. It makes you feel on top of the world, but that's only for a short time," he said.
"It really does ruin your life, ruins your mind, makes you dumber."
He added: "I noticed, taking stuff like that, my speech was slurring. I was like a zombie.
"You would be running about, off your head, doing stupid things, stuff you regret in the morning.
"When you wake up in the morning, you feel 10 time worse after taking the drugs."
The teenager said he believed those who abused it became more vulnerable to suicidal thoughts and more likely to commit crime.
He said access to pregabalin was just "a text away" and claimed it was not only young people, but also parents who are abusing the substance.
"People would prefer prescribed versions because they know they're a lot cleaner, but what's fake and what's not fake nowadays... you get hit with all sorts."
'Robbing grannies'
He claimed some patients who had been prescribed the drug themselves were then selling on part of their prescription to make a profit.
"They are good money, buds - very good money," he said.
"People would take them just to get that wee hit - to get everything off their mind, to feel invincible, And it really does make you feel invincible."
The teenager said taking buds initially made him feel like "superman" but said the effect of the drug made him do "bad things".
He added that he witnessed drug abusers "robbing grannies" and trying to break into houses.
"If they're not breaking into houses they're taking different drugs with them, and that's uppers and downers.
"I'm surprised half of them haven't dropped dead yet from the drugs that are in their system."
'Hurt'
The teenager was a friend of Belfast schoolboy Aaron Fox who took his own life in April following a battle with drugs.
"My wee mate was Aaron Fox," he said.
"That kid was probably one of the most lively people I've seen, always had a smile on his face. I just saw him go downhill."
He said the aftermath of drug deaths was affecting his community.
"It's the hurt that they leave behind as well - what their mummies have to go through, what their mates have to go through."
'Peer pressure'
The teenager said his own mother had a big influence on his decision to stop abusing drugs but claimed that not enough help was available to prevent young people getting involved with substance abuse.
"Nobody really cares about the kids on the streets, not at all.
"The environment we grow up in - looking up to the older ones who take it. If it's not looking up to the older ones who take it, its peer pressure.
"People would start off with grass, probably try a wee bit of cocaine, then it moves on to buds."
The Advisory Council for the Misuse of Drugs has recommended that pregabalin should be re-classified as a Class C drug.