David Ford removed from Church role over gay marriage stance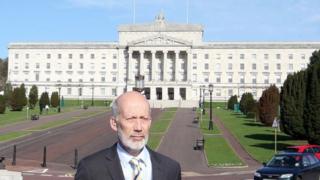 Former Alliance leader David Ford has been removed from his role as an elder in his local Presbyterian Church after he spoke out for gay marriage.
The former justice minister held the role with Second Donegore Presbyterian Church, Dunamuggy, for nearly 30 years.
Mr Ford said he was removed because the other elders refused to work with him.
A spokesman for the Presbyterian Church in Ireland said "there had been a breakdown in relationships between him and other members".
It said because of that it had "become impossible for Mr Ford to satisfactorily discharge his duty as a ruling elder".
'Great sadness'
The congregation was informed at the end of Sunday's service.
Mr Ford said it was a matter of great sadness that both the presbytery and session had failed to promote healing and unity within their church, despite repeated requests from him over the last nine months.
"I believed, as an elder, I had a part to play in making our congregation fit for purpose," he said.
"Unfortunately, Presbytery and the Judicial Commission have now made that impossible. It remains to be seen whether or not I have any role in Dunamuggy."
'Freedoms of conscience'
In a statement, the Presbyterian Church in Ireland confirmed that Templepatrick Presbytery Commission had "sought to attempt to resolve issues" between elders in the local congregation, following David Ford's comments on same-sex marriage.
The Presbytery Commission noted that the church "does allow certain freedoms of conscience for office bearers ... when communicating the views of a different organisation" and therefore it did not proceed with disciplinary charges "on the grounds of Mr Ford's articulation of the views of his political party".
While Mr Ford has been removed from his role as a ruling elder in the congregation of Second Donegore in County Antrim, he remains as an ordained elder of the Presbyterian Church in Ireland.
Earlier this month, Mr Ford resigned as leader of the Alliance Party.
He said he felt it was "an appropriate time" to hand over to a new leader.
Mr Ford told the Belfast News Letter on Tuesday that there was "absolutely no connection" between his removal and his decision to stand down from the leadership of the party.