Exhibit: 100 jobs at NI clothing chain are under threat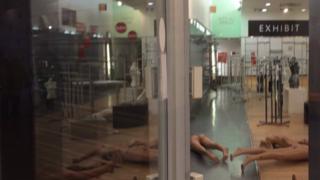 About 100 jobs are under threat after the Northern Ireland-owned clothing chain, Exhibit, was placed into administration.
It has traded since 1983 and has 16 shops but said it has been hit by a change in consumer spending patterns.
The administrator, HNH Group, also said Cucco Retail Limited, which trades as Exhibit, had been affected by a general downturn in trading conditions.
HNH is "assessing the financial position" of the firm and its assets.
The Exhibit brand has 14 local stores and a further two in the Republic of Ireland, according to its website.
The company's store in Belfast's Castle Court was closed on Tuesday and all the stock appears to have been removed.
Staff who spoke to BBC News NI said they were told on Monday night that the store would not be open for business on Tuesday.
'Devastating'
Becka O'Haire and Chloe Lyttle both worked at the Exhibit store in Bow Street Mall, Lisburn.
"Whenever I first heard rumours on Friday, it was really devastating but now I feel more angry", Chloe said.
Becka added: " I was met by the liquidator (at the store) on Tuesday morning.
"She introduced herself, said what was happening and then took all the takings and all the information.
"We have been told that we are not getting paid our month's wages.
"It is due this Thursday and we have been told that there is no money in the bank".