Belfast bins: New bin day letters 'dumped in skip'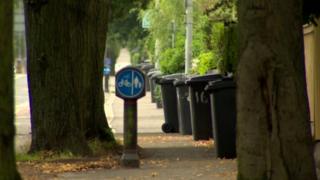 Hundreds of letters notifying people of a change to their bin collection day were "found dumped in a skip", Belfast City Council have said.
About 40% of all households in the area were not told that their bin collection day had changed because letters were not delivered.
Nigel Grimshaw, from the council said a contractor had "let them down" and "human error" was to blame.
Bin collection day has changed for about 160,000 households on 310 routes.
Up to 40% of those affected received no communication and some letters which were delivered held the wrong information.
Mr Grimshaw told BBC Radio Ulster's Nolan programme that extra resources have been directed to resolving the confusion.
He said: "I need to apologise to the residents of Belfast... the level of disruption has been much more significant than anticipated."