£13m stolen from Northern Ireland people in cyber crime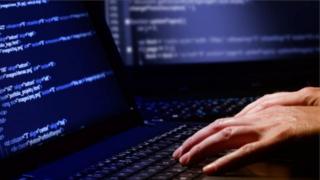 £13m was stolen from people in Northern Ireland through different forms of electronic deception and theft over the last year, police have said.
The PSNI deals with more than 300 requests a month relating to cyber incidents.
It said one in 10 people will be victims of a cyber crime and is trying to increase awareness of the pitfalls.
Internet safety organisation, Get Safe Online, is running three public events in NI this week.
They want to increase cyber awareness right across the community.
Online safety events are being run at Victoria Square in Belfast on Thursday, Foyleside shopping centre in Londonderry on Friday and at Sprucefield, Lisburn.
Tony Neate of Get Safe Online, the group running the safety events with the police in Northern Ireland, said: "The fact that Northern Ireland lost £13m to cyber criminals and the UK lost nearly £11bn last year, is frightening and highlights the need for each and every one of us to make sure we are taking our online safety seriously."
Mr Neate said more than 50% of people in Northern Ireland felt there was nothing that could have been done to stop them becoming a victim.
'Get educated'
"This is alarming indeed - particularly when it's so easy to protect yourself online. It seems there is still a big education job to do," he said.
"Let's not let cyber criminals get away with it any more by ensuring that each and every one of us is updating the operating systems of our various devices and ensuring security software is always updated.
"What's more, we all need to ensure that we have a different password for each online account we own and website we visit. Online safety needs to be part of our everyday routines."
PSNI Det Ch Insp Dougie Grant said: "One in 10 people will be victims of a cyber crime. Nine out of 10 large organisations have reported suffering a cyber breach.
"We are working with partners to minimise these risks. At these pop-up shops, we will have officers on hand to provide advice about child protection online and cyber investigation. Action Fraud will also have staff available to answer any questions and offer assistance to visitors.
"We will have specialist advice for small businesses including the Cyber Essentials package designed to help organisations protect themselves against common cyber attacks."