Dale Farm solar farm to power cheese making plant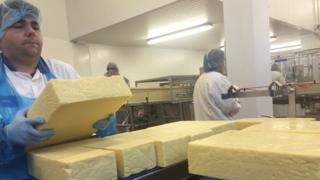 One of Northern Ireland's leading agri-food companies is building a solar farm to help power a County Tyrone cheese making business.
Dale Farm plans to install 18,000 panels on a 37-acre site near its Dunmanbridge plant outside Cookstown.
It will supply a fifth of the power needs at the facility.
The scheme will also deliver environmental benefits with a cut in carbon emissions.
The company said it would guarantee 20 years of low-cost power at the cheese making plant.
Nick Whelan of Dale Farm said it would be the one of the largest such facilities on the island of Ireland and would help reduce operating costs.
"There is a shortage of available electricity in the local area which to date has made our ambitious growth plans challenging," he said.
Dale Farm recently invested £7m to expand the factory.