Northern Ireland Executive construction strategy criticised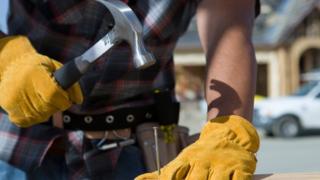 The executive has been accused of not having a clear strategy on how to re-invigorate the construction industry here.
The claim was made by the SDLP's Patsy McGlone, chair of the assembly's working group on construction.
He said the government must send out a very clear message to the industry.
"The only way they can do that is to have a clear programme of work rather than the stop-start that seems to be the case with the executive," he said.
"Get that programme of work out, make sure that firms are aware of it, make sure that we have the tendering process speeded up and get the work started.
"I think many of us are fed up with announcement and re-announcement and re-announcement again of different schemes.
"Just let's get the work moving."
A spokesperson for the Executive Office said: "Since 2011, the executive has invested over £7bn in new and upgraded infrastructure.
"The executive is currently finalising a new investment strategy setting out its priorities for infrastructure development over the next decade. "
"In addition to investment by the executive, it will underline the vital contribution of investment by the local government sector, the regulated utilities and the private sector."
The spokesperson added that the strategy would "set out a strategic roadmap for future investment".