Buncrana pier tragedy hero Davitt Walsh receives bravery medal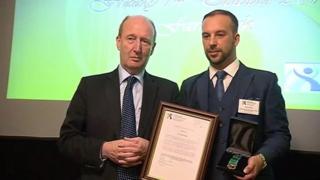 A man who rescued a baby girl from a pier-side drowning tragedy that claimed five other lives has been awarded a gold medal for bravery at sea.
Five family members died in March when their car went off Buncrana pier in County Donegal and into Lough Swilly.
Davitt Walsh, who was on the pier, swam to the car from which the four-month-old child was handed to him.
Mr Walsh, 30, from Kerrykeel, was awarded the Michael Heffernan Gold Medal for Marine Gallantry on Friday.
Presented by Irish Transport Minister Shane Ross, the honour was in recognition of the County Donegal man's "bravery at huge peril to his own safety to risk life, in an effort to save the life of a child".
Those who died were Ruth Daniels, 57, her daughter Jodie Lee Daniels, 14, Sean McGrotty, 49, and his sons Mark, 12, and Evan, eight.
They were the mother, sister, partner and two sons of Louise James, from Londonderry.
Mr Walsh, a former Irish League and League of Ireland footballer, managed to save baby Rionaghac-Ann.
He later said that he felt "terrible" that he could not do more.