North Belfast: Man struck by firework in fish and chip shop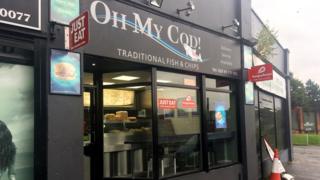 A man has suffered burns after he was hit by what police have described as a "large firework rocket" in north Belfast.
Police said the firework was dropped through the doorway of a fish and chip shop by an "unknown male".
The incident happened at about 21:15 BST on Friday at the shop in Alliance Avenue.
The man was taken to hospital where he is described as being in a stable condition.
Condemning the incident, North Belfast SDLP assembly member Nichola Mallon said: "Fireworks aren't toys, they can cause serious injury and they can cause considerable damage to property and they need to be used responsibly.
"So I would send a very clear message to parents and to young people to realise the dangers of fireworks."
Sinn Féin councillor JJ Magee said: "Hopefully the injured man will make a full and speedy recovery but it must have been a very traumatic experience."
Police have appealed for witnesses to contact them.