Raymond McCreesh Park: Grandmother ends legal bid against Equality Commission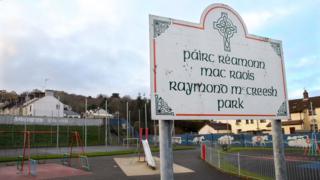 A grandmother has ended a legal challenge against the Equality Commission over a playground being named after an IRA hunger striker.
Bea Worton had taken the action over the decision to call a park in Newry, County Down, after Raymond McCreesh.
The challenge was ended because the commission had rescinded its approval of a review of the name.
Another legal bid against the local council over the name has been adjourned for six weeks.
Mrs Worton is requesting a judicial review against Newry, Mourne and Down District Council for alleged bias or irrationality in the decision to name the park.
A judge agreed to dismiss the other case against the commission and ordered it to pay half the 88-year-old pensioner's legal costs up to the point it reached its new position on the park's name.
Mrs Worton's son Kenneth was one of 10 people killed by the IRA at Kingsmill, south Amagh in 1976.
The court was previously told that McCreesh was reportedly in possession of a rifle used in the killings when he was captured later that year.
McCreesh, from Camlough, south Armagh, was one of 10 IRA prisoners who died in a hunger strike in the Maze Prison in 1981.
His convictions included attempted murder, conspiracy to murder, possession of firearms with intent to endanger life and IRA membership.
According to Mrs Worton's legal team, she was left shocked and outraged by the insensitivity of the playground decision.
The naming of the park has been controversial since it opened in 2001.
Disappointed
In 2012, the then Newry and Mourne District Council reviewed the decision and decided the name would remain.
Earlier this year, the Equality Commission rescinded its approval of that review and said the council should vote again on the park's name.
It said the council failed to fully comply with its recommendations on the review process.
Initially the commission had said it was disappointed the council did not change the name but that it accepted the review process had been carried out as it recommended.
In court on Tuesday, however, Mrs Worton's lawyer said the commission had now taken the view they had "urged".