Castlewellan, County Down: Armed men lock woman and children in room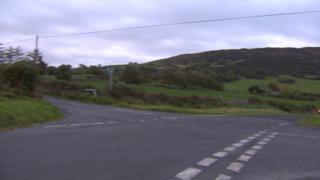 A woman and three children have been locked in a bathroom by an armed gang who ransacked their County Down home and stole their car.
Three masked men entered the house on the Ribadoo Road near Castlewellan at about 19:30 BST on Monday, armed with two guns and a hammer.
Threats and demands for money were made by the men.
The family were then locked in the bathroom, before the gang drove off in their grey Audi A4 car.
The woman and children were not physically injured, but were left badly shaken.
Two of the men were described as being about 6ft tall, of slim build, while the third was about 5ft 8ins tall and stocky.
As well as masks, they also wore gloves and high-visibility tops.
SDLP Councillor Mark Murnin condemned the attack.
"It is a horrific thing to happen - for people to come in and terrorise a woman and her children in her own home," he said.
Police have appealed for anyone with information to contact them.