Bombardier worker with 'bad back' filmed laying slabs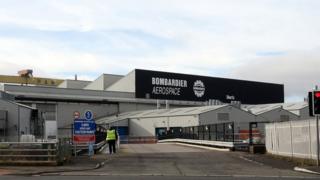 A worker at Bombardier Belfast who was filmed laying paving slabs while he was off work with a bad back has lost a claim for unfair dismissal.
The man had an accident at work in 2014 and went on sick leave.
Concerns were raised about the length of time he was off and the suspicion he could be exaggerating his condition to assist in a personal injury claim.
As a result a senior manager authorised covert surveillance.
In June 2015, the man was filmed laying several flagstones in the driveway at the front of his house.
As a result he was sacked for gross misconduct.
The tribunal found that this was a "reasonable response" by Bombardier.