Sue McAllister apologises over inmate who blinded himself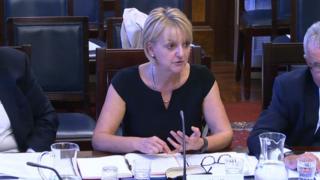 The director general of Northern Ireland's Prison Service has apologised for injuries sustained by a Londonderry man who blinded himself in Maghaberry Prison.
A report by NI's Prisoner Ombudsman said Sean Lynch inflicted "extreme and shocking" self-harm over three days.
It said that prison staff watched the 23-year-old but failed to intervene.
"I am sorry for the life-changing injuries that Mr Lynch sustained whilst in our care," said Sue McAllister.
Mrs McAllister appeared before Stormont's justice committee over the case of Mr Lynch on Thursday.
She said the days leading up to Mr Lynch's "most serious incident of self-harm" were "hugely challenging for everyone - for our officers, our healthcare colleagues, Mr Lynch's family and of course Mr Lynch himself".
CCTV cameras showed Sean Lynch shouting and crying in pain and banging his cell door, but the officers did not try to stop him.
Sean Lynch used his fingers and thumbs to damage his eyes, and claimed to have used a piece of broken glass to injure his groin.
Previously Mrs McAllister said it was the most extreme case of self-harming she had experienced in 30 years working in prisons.
She said it was a "shocking and tragic case" but that "it was not possible to say what staff could or should have done" in this "unprecedented incident".
"Our staff on that day, and in the days leading up to incident had cared for Sean in a very caring and professional way," she said.
"But this case also highlights just how challenging and complex the work of our staff is every single day."