Keady: Police make arrest after suspected drugs seizure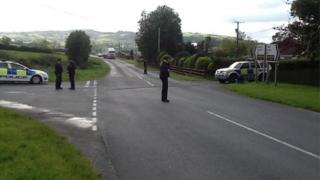 Police in Armagh have arrested a 17-year-old male on suspicion of possession of a class B drug with intent to supply.
It was reported that the individual may have been trying to sell drugs to young people who were in the vicinity of The Square in Keady.
Shortly before 3.45pm BST on Thursday police received a report that a man was acting suspiciously.
Suspected cannabis was found after a car was stopped on Thursday afternoon.
The operation was carried out with the help of gardaí (Irish police).