Naomi Long takes over as acting Alliance Party leader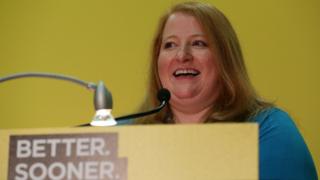 Naomi Long has taken over as acting leader of the Alliance Party after David Ford's resignation from the post.
On Wednesday, Mr Ford announced he was resigning as leader of Alliance after 15 years in the job.
The 65-year-old father-of-four will continue to serve as an MLA for South Antrim.
Party insiders are predicting that Mrs Long may be the only candidate to take the position on a permanent basis.
Appropriate
In May 2010, Mrs Long became the first Alliance Party MP when she was elected for East Belfast, defeating DUP leader Peter Robinson.
However, she lost the seat in 2015 to the DUP's Gavin Robinson.
Mr Ford led the cross-community party since 2001 and was the party's longest serving leader.
He said it was "an appropriate time to hand over to a new leader who will lead the party forward in the next stage of its development and growth".