Nama: Minister defends handling of sale of Nama's NI property portfolio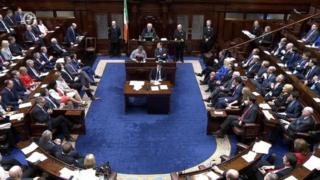 Irish Finance Minister Michael Noonan has defended his handling and lack of involvement in the sale by Nama of its Northern Ireland property portfolio.
Speaking at the Dail's Public Accounts Committee, Michael Noonan said Nama was set up to be independent of government.
He said it was not his job to tell Nama to break up its portfolio into smaller lots for sale.
The Northern Ireland property folio that Nama inherited was once valued at about £4.5bn.
But Nama, the Republic's bad bank, sold it two years ago for about £1.3bn.
Last month, the Republic of Ireland's public spending watchdog, the Comptroller and Auditor General, found that Nama could have got £190m more from the sale of its Northern Ireland portfolio, Project Eagle, than it did.
Nama has vigorously contested the comptroller's findings describing them as "unsound and unstable".
Asked about the difference of opinion between the two state bodies, Mr Noonan said he has confidence in both.
"One can have confidence in two organisations even when they don't agree on every detail," he said.
"It's up to you in the Public Accounts Committee to resolve that conflict rather than me."
The Irish government has previously announced it intends to set up an investigation into the property deal.
The hearing is continuing.