Loughs Agency records big rise in NI river pollution incidents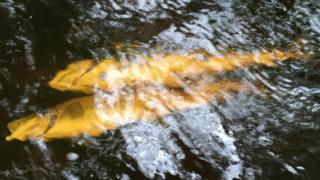 There has been a big rise in pollution in Northern Ireland rivers monitored by the Loughs Agency.
There have been 150 incidents so far this year, compared to 100 in the whole of 2015.
In the worst incident in August, over 1,000 fish were killed in the River Faughan by suspected silage effluent.
The agency is an all-Ireland body with responsibility for rivers and lakes that flow into Carlingford Lough and Lough Foyle.
Seizures
There has been a "significant increase" in poaching in these areas too.
The details were given to the Northern Ireland Assembly by the Agriculture and Environment Minister, Michelle McIlveen.
She said last year there were 125 seizures by Loughs Agency staff of boats, nets, rods and fish.
But, so far, this year the number of seizures stood at 197.
The agency has taken 47 cases to court this year, compared to 30 in 2015.
"It's unfortunate that we're in this situation but staff are doing what they can," the minister said.
She said agency staff had been asked to speak to farmers on both sides of the border to try to raise awareness about pollution.
A meeting has been arranged with the Ulster Farmers Union and the Irish Farmers' Association.