Foreign worker disclosure 'could damage relations'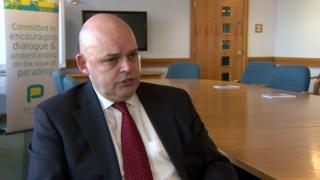 The chairman of the Community Relations Council has said a proposal to force UK companies to disclose how many foreign workers they employ could damage "race relations".
Peter Osborne was responding to comments made by the Home Secretary Amber Rudd at the Conservative Party conference.
Ms Rudd defended her plan and said the the proposal was being considered.
Mr Osborne said he had several concerns over the plans.
Tick-boxing exercises?
"I think we need to be much more vociferously recognising the contribution of migrant workers to our society have made socially, economically and culturally," he said.
"The comment sounded as if it wasn't recognising the contribution migrant workers made but quite the reverse.
"Secondly, whatever the rights and wrongs of Brexit, in the context of increasing race hate crime, we need to be extremely careful of what we say so as not to deepen prejudice or increase the fears of people who work here and contribute so much to this economy.
"I think in terms of language and as a policy initiative, it is concerning."
Under Ms Rudd's proposals, firms could be forced to disclose what percentage of their workforce is non-British as a way to encourage them to hire more locals.
During her speech in Birmingham on Tuesday, the home secretary said new curbs on foreign workers and students may be needed to "change the tide" of public opinion on immigration.
Launching a consultation on entry rules for foreign workers and students, Ms Rudd said the tests that employers had to undergo before recruiting from abroad had become "tick-boxing exercises" and too often resulted in British citizens being discriminated against.
She told the Conservative conference companies were "getting away" with not training British workers and tougher recruitment tests were needed.
The home secretary dismissed criticism and told the Today programme her aim was to encourage businesses to train British workers.
"It's not something we're definitely going to do, it's one of the tools we're going to use as a review to see if we can use it as a way of nudging people to do better behaviour," she said.
"What we are saying is work with us businesses, work with us to deliver on what we need to have which is a more skilled local labour force."