Nama deal: Six people under criminal investigation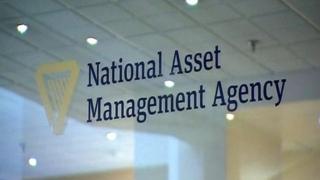 Six people are under criminal investigation in connection with the sale of Nama's Northern Ireland property portfolio, the agency leading the inquiry into the deal has revealed.
Possible offences being investigated by the National Crime Agency include bribery, corruption and fraud.
The NCA said more than 40 witnesses have been questioned.
Seven were questioned under caution, meaning their answers can be used in court at a future date.
Two of them were arrested.
Details of the investigation have been revealed in an interview for the BBC by the director general of the NCA, which took over the inquiry from the Police Service of Northern Ireland in July last year.
In her first interview about the agency's work in Northern Ireland, Lynne Owens said further arrests could not be ruled out at this stage, but she could not say how long the investigation was likely to take.
"That's always a very hard question to answer," she said.
"We have interviewed over 40 witnesses, we have searched eight properties, we have achieved a number of court orders both for private properties and for public locations, and our inquiries continue.
"I can't give you a timescale for completion, not because I know one and I have that confidentially in my head, but because you and the public of Northern Ireland rightly expect us to do a thorough inquiry and we will follow the evidence in our search for the truth before we put any potential case to the prosecutors for consideration."
Lynne Owens would not say whether the NCA has established if any laws were broken in the Nama property sale, known as Project Eagle.
"That's what we need to find out," she said.
"So we interview people under caution, we listen to their accounts, we seize material, we review that material and then we will consider all that material in the context of UK law.
"If we think a law has been broken we will provide that information to the prosecutors.
"We are investigating laws under bribery legislation, under corruption legislation and under fraud legislation, those are the sort of offences we are currently considering."
When asked if she was confident there would be criminal charges at the end of the investigation, she said that was not a judgement for her to make.
"Our job is to undertake a search for the truth, to compile the evidence, and to put those files of evidence to a prosecutors' office," she explained.
"They will make a judgement about whether there is a case to answer and any charging decisions. Our job is to make sure that our investigation is as thorough as it can possibly be."
The NCA confirmed to the BBC in a statement in August that two individuals arrested in May as part of the investigation had been released from police bail.
Ms Owens was asked if the fact that they had been released from bail so quickly suggested they don't have a case to answer.
"As you know there is a big debate at the moment about bail legislation," she replied.
"We should not hold people on bail longer than is for necessary, but neither should people draw any conclusion about that release from bail."
The NCA's director general also said the agency would co-operate with any inquiry into the Nama sale by law enforcement agencies in the Republic of Ireland.
"We have a really good relationship with the Irish police and we have an international liaison officer based in Dublin," she said.
"If they were to start to conduct an inquiry we have a method of exchanging information and intelligence which is governed by the law and we would of course assist and comply with that lawful process."