Gary Donegan: Ardoyne protest was like Holy Cross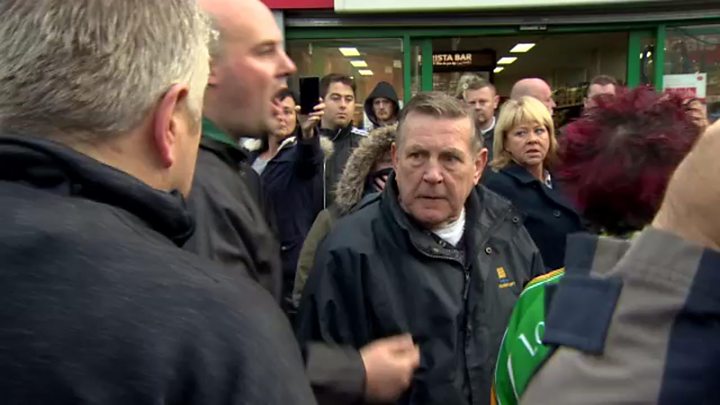 A north Belfast priest has said a confrontation with protesters on Saturday reminded him of the 2001 Holy Cross dispute.
Fr Gary Donegan was confronted by supporters of the nationalist Greater Ardoyne Residents Collective (Garc).
It happened as Ligoniel Orange Order lodges marched past Ardoyne shops.
The contentious parade went ahead after an agreement between Orangemen and nationalist residents' of Crumlin Ardoyne Residents Association (Cara).
Fr Donegan was involved in the negotiations but Garc supporters accused him of taking sides with Sinn Féin and the Orange Order against a majority of residents.
Garc supporters shouted "you're a disgrace", "shame" and "you don't live here" at the priest.
"I'm not someone who's easily shocked but, I suppose, the nature of it and the strength of some of the language took me back to 2001 during the Holy Cross blockade," Fr Donegan said.
The pupils of Holy Cross Primary School in Ardoyne were caught up in a violent dispute 15 years ago that made headlines around the world.
They had to walk through daily loyalist protests on their way to school.
Fr Donegan said: "You could almost expect that [during the Holy Cross dispute] because there was a sectarian element to that, but this was from within my own community, so I was kind of taken back by it to some extent.
"The irony was that quite a few of the protagonists, I've been involved directly in pastoral situations in their lives, and been involved in very serious situations in their lives."
Fr Donegan said he had always advocated a right to protest, as long as it was with "dignity and decorum".
"What I witnessed was actually the opposite to that," he said.
"In fact, whatever their point was, they'd lost it - if they'd really believed that they needed something to say then I've given them a platform time and time again and the door's always been open to them.
"We've been caught in a deadlock and I personally walked that road for two and a half years and the irony was that some of these people who were in my face the other day, I've never seen them next or near that while I was trying to protect young people from getting involved in anti-social behaviour."
Six hundred police officers were involved in Saturday's security operation.
Orange Order members completed a return parade in the area which had been banned by the Parades Commission in 2013 after the agreement with CARA.
In response loyalists dismantled a protest camp at Twaddell Avenue set up in 2013.