North Belfast: Orange Order parade passes off peacefully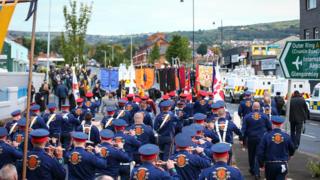 One of the most bitter parading disputes in Northern Ireland in recent years has ended.
Local Orange Order lodges marched past the Ardoyne shops in north Belfast early on Saturday morning.
Loyalists are now due to dismantle their protest camp at Twaddell Avenue. It was set up in July 2013 after the Parades Commission ruled Orangemen could not walk along the route .
600 police officers were involved in the security operation.
Agreement
The Orange Order were allowed to march along the route after an agreement between Orangemen and the nationalist residents' association the Crumlin Ardoyne Residents Association (Cara).
Several dozen protesters from the Greater Ardoyne Residents Collective (Garc), who reject that deal, gathered at the Ardoyne shops as the parade got underway.
They chanted "walk of shame" but dispersed peacefully after the march passed.
A protest against the parade passed off peacefully on Friday evening. Over 200 people took part.