Belfast residents reflect 100 days after Brexit vote
Sunday marks 100 days since the UK voted to leave the EU.
The majority of people in Northern Ireland (56%) voted to remain, but how do people in Belfast now feel about Brexit?
To mark the 100-day milestone, a BBC Radio Ulster documentary has sounded out opinions from people living and working on three city streets named after EU capitals.
They are Berlin Street, Madrid Street and the Dublin Road.
'No regrets'
Germany is the undisputed powerhouse of Europe, so what better place to start than Berlin Street off the Shankill Road in west Belfast?
One of the residents, retired electrical engineer Trevor Herron, said he has no regrets about his decision to vote leave.
"We're a small indigenous population," he said. "Within 30 miles of Belfast, that's most of the population."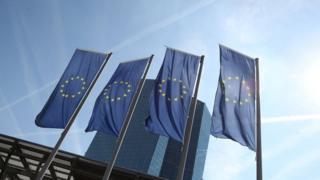 "Health service, housing… we just can't keep bringing people in. Where are we going to put them?"
A few houses up, Andy was busy cleaning windows.
His round also includes nearby Paris Street, Brussels Street and Riga Street.
Andy also voted to leave and says immigration was one of his main reasons too.
"A lot of the fear is the influx of foreigners coming to this country," said Andy.
"I never thought you'd see it on the Shankill Road and we're seeing it daily now."
He says there is now a shortage of housing for young people who were born and grew up in the area.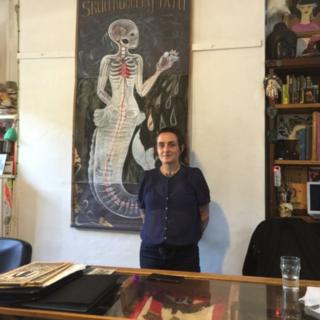 To the east of the city, Madrid Street is named after the Spanish capital but has a Belfast twist, being divided by a peace wall.
Maureen Dignam has lived on the nationalist side of the divide her whole life.
She cried when she heard the referendum result.
"I've watched the way Belfast has bloomed and I voted to stay in," said Maureen.
"Money coming in from Europe... the funding that firms are getting, which is opening up jobs for everybody, is making Belfast a bigger and better place."
'EU has given us opportunity'
The Dublin Road is home to a mix of businesses, shops and places to eat.
Sandwiched among these is a tattoo studio owned by Helen McDonnell, who is originally from Drogheda in County Louth.
She said the EU has been good for both the Republic of Ireland and Northern Ireland and why she voted remain.
Across the Dublin Road, immigration is once again on the agenda at Shaftesbury Square Reformed Presbyterian Church.
However, associate pastor Philip McCollum comes at it from a different angle.
"Christ has commanded us to go and make disciples of all nations, and the nations are coming to us," he said.
"I think the EU has given us that great opportunity."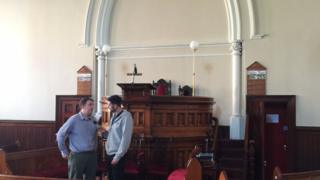 Phillip's church runs English language classes for EU nationals and others coming to live in Northern Ireland.
At the nearby Movie House Cinema on the Dublin Road, manager Michael McAdam said the Brexit result has already had implications for his business.
Due to the weakened pound, he estimates a planned refurb could cost him as much as 20% more.
Despite this, he said he was confident the UK can still prosper when it leaves the EU.
Fair argument
Krzysztof Korkoszynski, who is originally from Poland, lives on the unionist side of Madrid Street.
He couldn't vote in the referendum because he doesn't have British citizenship.
Krzysztof works in manufacturing and said he had been unemployed for just three days in the 10 years he has lived in Northern Ireland.
However, he understands concerns about immigration.
"If people feel that this is affecting their lives too much, that's a fair argument," said Krzysztof.
"But I didn't come to this country to destroy the economy, that wasn't my plan."
To leave the EU, the UK must implement Article 50 of the Lisbon Treaty.
It's thought this could happen as early as next year; some believe it could take much longer once negotiations begin.
Brexit Streets: Belfast airs on BBC Radio Ulster at 12:30 BST on Sunday.