Twaddell Avenue deal: Go-ahead given for parade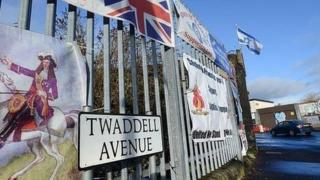 The Parades Commission has given the go-ahead for the Orange Order to complete the return leg of its parade along the Crumlin Road on Saturday.
It follows an agreement between the order and the Crumlin Ardoyne Residents Association (Cara) to end a three-year dispute.
Another nationalist residents' group has said it will hold a protest against the parade on Saturday.
The Twaddell Avenue protest has been ongoing since July 2013.
The Greater Ardoyne Residents Collective (Garc), which opposes the deal, has also said it will hold its own parade on Friday evening.
It has applied to the Parades Commission for a parade involving up to 500 people on the Crumlin Road.
Garc has also applied to hold a protest by up to 150 people during the Orange Order's north Belfast parade on Saturday morning.
A spokesperson for the Parades Commission said the agreement between the order and Cara "presents an opportunity for resolution of the decades-long parading disputes at the Crumlin Road".
"The commission's assessment is that there is evidence of support within local north Belfast communities to achieve the agreement's desired aims," said the spokesperson.