Sub-machine gun: Nine-year sentence over carrying gun in a Belfast taxi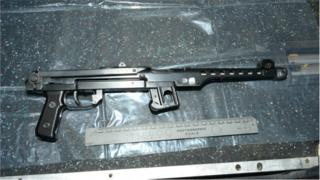 A dissident republican has received a nine-year sentence for carrying a sub-machine gun in a Belfast taxi.
Vincent Kelly, 31, formerly of Hawthorn Street in Belfast, was sentenced at Antrim Crown Court.
The court heard that Kelly was stopped while travelling in a taxi towards the Falls Road in Belfast in November 2014.
The judge said it was fair to assume the "only purpose" of the weapon would have been to allow dissident republicans to target security forces.
The court heard that Kelly was found with a holdall that contained a reactivated sub-machine gun wrapped in a fleece, three rifle magazines inside a pillow case, and 30 rounds of ammunition inside a sock.
On further investigation, CCTV footage showed Kelly boarding a bus from Belfast to Dublin on 17 November 2014, and then coming back to Belfast on a bus with the holdall three days later.
He was travelling from the bus station in a taxi when he was stopped.
His mobile phone was seized, and communication on it linked him to dissident republican activity.
It was heard that Kelly was convicted of IRA membership by a Dublin court in 2006.
He also has a conviction for unlawful assembly in the Republic of Ireland dating back to 1999 after attending an IRA training camp in county Meath when he was 14.
At the same court last week, it was heard Kelly was photographed at the funeral of Real IRA leader Alan Ryan in 2012.
Kelly pleaded guilty to possession of a firearm with intent to endanger life and asked to be placed on the republican wing of Maghaberry prison.
The judge said he had taken into account the fact that Kelly was not "on operation" when he was caught with the weapon, and that the gun was not loaded.
Kelly was sentenced to nine years, four-and-a-half to be served in prison and the same on licence.
The judge also imposed a £50 offender levy.
There was extra security at Antrim Crown Courthouse during the sentencing. Outside the court, a car full of Kelly's supporters was searched by police.
Welcoming the sentence and seizure of the gun, Det Ch Insp Gillian Kearney said: "We are delighted to have taken this lethal weapon off the streets.
"Lives have undoubtedly been saved due to the work of officers in Serious Crime Branch, supported by our colleagues in An Garda Siochana.
"Those who follow a path of violence need to realise that their activities will inevitably lead to serious consequences for themselves."