Fair Head: Climber rescued from cliff face in gale-force winds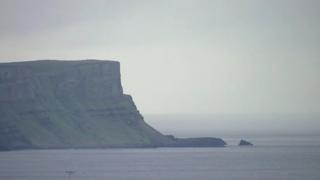 A climber who got stuck on a cliff in gale-force winds has been rescued by a team who tied ropes to rocks, climbed over the edge and pulled him to safety.
The man was seen in difficulty at Fair Head near Ballycastle, County Antrim, just before midnight.
Norman Bridges from the Coastguard said the man had "become cragfast, which means he couldn't go up or down".
A Coastguard rescuer was lowered down the cliff face on ropes to bring the climber back up.
'Over the edge'
Mr Bridges, a senior maritime operations officer, said the climber was rescued unharmed but added that his team faced "horrendous" conditions in "force nine" winds.
"Due to the top of the cliff, they had very little soft ground to put their stakes into, so they had to actually tie their ropes to rocks and boulders and make natural holdfasts," Mr Bridges told BBC Radio Ulster.
"Then they lowered the casualty out over the edge, but the biggest thing last night - we had winds of gale force eight gusts and severe gale force nine - which on top of the cliff was pretty horrendous for those boys to be working in.
"They did a powerful job getting the casualty back up," Mr Bridges said.
The operation involved coastguard teams from Ballycastle and Coleraine and the coastguard helicopter from Prestwick in Scotland.
The Redbay lifeboat team was also deployed at the base of the cliff to provide cover in case the climber fell into the water during the rescue.
"It was a very good outcome, the casualty didn't need any medical assistance at all," added Mr Bridges.