Maghaberry overdose inmate 'asked not to keep his medicine'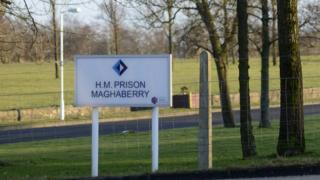 An inmate took a fatal overdose of his own prescription drugs despite asking not to be put in control of them, a prisoner ombudsman report has found.
Paddy Kelly, 46, died in March last year after hoarding the drugs while on remand in Maghaberry Prison. He was known to be at risk of self-harm.
His overdose was "foreseeable" and his death "preventable", the report said.
The health trust in charge of his care said actions have been taken to address the "practice issues" identified.
Mr Kelly's family said the report showed the practices within the Country Antrim prison to be "wholly inadequate".
His wife, Denise, and children also said they were now taking legal advice on "seeking redress".
The ombudsman's investigation into his death found Mr Kelly had been heavily dependent on medication for several years.
When remanded to Maghaberry, he asked not to be allowed to retain his tablets.
"Unfortunately, his prophetic request was only briefly heeded," the report said. "After four days on 'supervised swallow' he was returned to 'in-possession' status without any protective measures to mitigate the risk of overdosing."
Mr Kelly then hoarded his tablets and took an overdose on 18 March 2015. He was taken to a hospital and died two days later.
The nurse who "most probably" took the decision to return the drugs told investigators she had no recollection of doing so.
'High risk'
The report made 21 recommendations and highlighted a number of concerns, including prison officers and nurses overlooking health records and relying instead on Mr Kelly's self-reports and how he appeared.
"They did not recognise the significance of a forensic medical officer's assessment that he was at high risk of self-harm, nor share this information with colleagues," the report found.
In a statement, his family said: "The family hope that the Prison Service, and health service working within the prison, can learn lessons from this tragedy so that the same may never be visited on any other family.
"No-one should have to die in prison. It is also heartbreaking that Paddy did not live to see the birth of his grandchildren, of which there are now two."
Prisoner Ombudsman Tom McGonigle acknowledged it was "particularly difficult" for the family to accept that Mr Kelly died from an overdose of his own medication "after having asked not to be allowed to hold it because he recognised the risks".
"Prescription medication in Northern Ireland prisons is a bigger issue than illegal drugs," Mr McGonigle told the BBC's Good Morning Ulster programme.
Concerns about capacity
"It's difficult to get medical staff to work in prisons, prisons are not easily places for their staff to work in and I fully recognise the challenges.
"It's easier for me to comment with hindsight, but that's the job," the ombudsman said.
"They do take the matter seriously but I would have concerns about capacity to manage situations such like this and hope that the learning can be applied in the future."
The South Eastern Health and Social Care Trust said it regretted Mr Kelly's death and extended sincere sympathy and condolences to his family.
"Delivering healthcare in a prison setting is challenging and complex," the trust added.
"Despite the challenges, our healthcare staff who work with prisoners do so because they are motivated to do their best to improve health outcomes for their patients."
Justice Minister Clare Sugden said the Prison Service would address the five recommendations relating to its area of work and would work with the trust to address two joint recommendations.