Owen Creaney: Murder accused rang friend and said 'she had gone mad'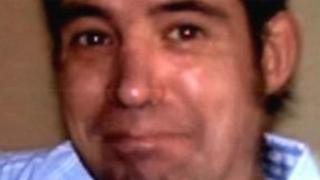 A woman accused of murdering a man in Craigavon rang a friend and told her she had "gone mad and jumped on his head and stomach'' following an argument, a jury has heard.
Owen Creaney, from Lurgan, was found dead on 5 July 2014.
Shauneen Boyle, 25, and Stephen Thomas Hughes, 29, are jointly charged with his murder.
A friend of Ms Boyle's said she received a text on Friday 4 July which said Ms Boyle was "in trouble".
Mairead McGuigan told the jury at Belfast Crown Court that she later phoned Ms Boyle.
"She said she got into a fight with Owen, she had went mad, she had beat a fella up after getting into an argument and she jumped on his stomach and his head. She might have said that he was in a bad way," she said.
"She said there was blood all over his face. She said his face was busted open.''
Ms McGuigan said Ms Boyle phoned her about 21:00 and asked her to call round to Mr Hughes's house after work.
"She asked me to bring round my hoover and my carpet cleaner as she said there was a stain on the white carpet,'' she said
Fight
The witness said she called to Mr Hughes's house at Moyraverty Court, Craigavon, about 21:35 and told a prosecution barrister that she took a seat on the sofa in the living next to Ms Boyle while Mr Hughes remained standing in front of them.
"They were drinking. Shauneen said: 'I got into a fight with Owen Creaney over my dad'," she Ms McGuigan said.
"Stephen said nothing. I asked him why he didn't break it up. He said he was afraid and said he had got his blinds broken."
She told the court she was about to leave when she heard noises coming from upstairs and realised Mr Creaney was up there.
Ms Boyle told her he had been sleeping for 28 hours and was drunk after consuming alcohol.
Ms McGuigan followed the pair upstairs and saw Mr Creaney lying on a sofa.
"He was making funny breathing noises, like heavy breathing. Shauneen said he was sleeping. He was like bruised with yellow bruising. There was foam coming out of his mouth," she said.
"I told them to get the police, that this man has a broken rib. Shauneen said Stephen was afraid of the police coming to the house. I said he definitely has a broken rib and she said Owen had drank a litre of vodka and was lying sleeping.''
She told the court that the pair told her they had showered Mr Creaney following the fight to "to try and bring him round" and had changed him and washed his clothes.'
'Too late'
Ms McGuigan left the property and told a male friend what had happened.
She said she was in contact with Ms Boyle the following morning.
Ms McGuigan said she asked Ms Boyle about Mr Creaney, to which she replied: "He is dead.'' I said: 'Get that man to the hospital now.''
"Shauneen said: 'It's too late. There is nothing more we can do for him'. But I don't think she was telling the truth.''
She said that during the phone call, she overheard a conversation between the pair talking about an "empty wheelie bin".
Ms Boyle's lawyer asked Ms McGuigan if she remembered getting a text on the Saturday morning in which his client had denied the murder. She said she did not.
Both Ms Boyle, from Edenderry Park, Banbridge, and Mr Hughes, whose address was given as HMP Maghaberry deny the charges.