Lurgan: Four men appear in court over mortar find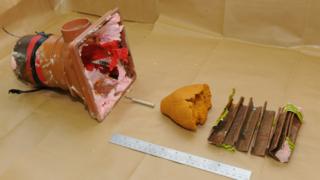 Four men have appeared in court following the discovery of an armour-piercing mortar in Lurgan, County Armagh.
The men were arrested last week by police investigating alleged dissident republican activity in the area.
Luke O'Neill, 22, from Silverwood Green in Lurgan was charged with attempting to murder police officers and having an improvised explosive device.
The others were charged with targeting a former member of the security forces.
They are Shea Reynolds, 22, from Kilwilkie Road in Lurgan, Ciaran Magee, 24, from Lake Street in Lurgan and Damien Duffy, 46, from Westclare Court in Dungannon, County Tyrone.
Police recovered an armour-piercing mortar during searches in Lurgan last week.
A detective sergeant told Craigavon Magistrates' Court that a car was doing loops around the home of a retired member of the security forces.
The officer also said the fingerprint of one of the defendants had been found on a camera trained on the house.
However, during cross-examination he said he did not know where the camera is currently.
During a bail application for Shea Reynolds, the prosecution initially claimed he had previous convictions.
But the court heard the police had erroneously provided a criminal record which belonged to someone else, and Mr Reynolds had never previously been arrested.
All four of the men were remanded in custody.
Dozens of supporters cheered and clapped as the defendants were led out of the dock in handcuffs.
A 22-year-old man arrested last Thursday as part of the same investigation was released unconditionally over the weekend.