Lough Neagh scheme launched to improve habitat for protected birds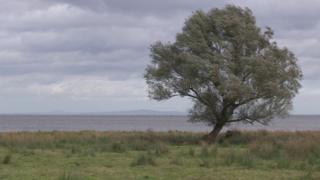 A fresh attempt is to be made to improve the habitat for protected birds around Lough Neagh.
It involves up to 50 landowners coming together to farm their land with the birdlife in mind, including specialist cattle and controlled grazing.
It is hoped the scheme will increase numbers of curlew, lapwing, snipe and redshank.
The lough is an internationally important area for overwintering birds and a key habitat for waders.
The plan is to draw on EU money that will pay the farmers for their conservation work.
Previous schemes have been tried with varying degrees of success.
Some prior attempts have involved individual farmers applying for conservation grants.
This is the first one to attempt an interlocking network of farms managed for the good of the wildlife.
It will mean the use of specialist cattle and carefully controlled grazing, to produce good habitat and protect nest sites. Scrub will also be cleared.
Depending on the type of land, the project could be worth up to £1,000 per hectare per year to farmers.
Farmer Simon Donnelly has signed up to take part.
He said it will allow him to both make a living and manage his land environmentally, something the family has been doing for years.
Gerry Darby of the Lough Neagh Partnership, which drew up the plan, said focusing investment on protected areas where there were existing concentrations of birds would help to preserve and enhance those numbers.
The scheme is expected to run until 2022.