David Gordon: What lies ahead for Stormont's new press secretary?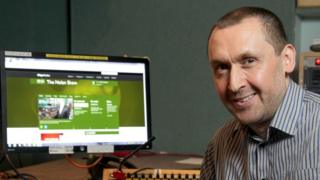 Former BBC journalist David Gordon is the new press secretary for First Minister Arlene Foster and Deputy First Minister Martin McGuinness.
What can he achieve and what are the difficulties?
Last weekend, in one of his last acts as a BBC employee, David Gordon travelled to Mount Stewart outside Newtownards in County Down.
He was there to help with a series of talks on international affairs and diplomacy.
The two-day event was jointly run by the BBC and the National Trust.
The 51 year old made sure the event ran well and watched speakers offer up insights on politics, media relations and the art of being a diplomat.
'Dividing lines'
Jonathan Powell, who advised Tony Blair when he was prime minister, was one of the keynote speakers.
Mr Powell wished David Gordon luck in his new role. He believes he must establish a good working relationship with reporters and remain cool.
"It is important that the person who is answering those questions doesn't get into a bunker, get into a trench," Mr Powell said.
"They need to remain positive in communicating their message, not to end up being defensive."
This guidance was echoed by another former Downing Street advisor who also served Mr Blair.
Francis Campbell, who is from Northern Ireland, thinks David Gordon will need more than just editorial skills.
He told the BBC programme 'The View': "If you have different parties in the government, especially when you get to the dividing lines where there is not agreement, then this person doesn't only just have to do a press job they also have to do a diplomacy job, back and forward I would imagine."
'Opposing views'
So can David Gordon serve two political masters, the Democratic Unionist Party (DUP) and Sinn Féin?
Another of the Mount Stewart speakers was documentary maker Michael Cockerell, who has spent a lifetime observing politicians.
"One of the difficulties about being a spin doctor, especially in Northern Ireland, is that you are having to do it for an executive that is in itself headed by people of totally opposing views," he said.
"And how you do this is going to be fantastically challenging."
Last weekend, a briefing document about David Gordon's appointment was issued by the Executive Information Service.
It accused some critics of stretching credibility and being hysterical.
To some, the language went too far.
'Ill-tempered'
Felicity Huston, a former Commissioner for Public Appointments, said: "It really did sound like something from North Korea and their good days when they are telling people what they think of the South Koreans.
"It was a bit like that. How dare you argue with us? How dare you question us?
"You are only doing it for political point-scoring. It was very ill-tempered," she said.
Soon the former BBC editor will set about selling the executive's message.
Once, he asked politicians uncomfortable questions. Now he has to start finding some answers.
Stephen Walker's TV report will be broadcast on The View on BBC One NI at 22:45 BST on Thursday.