David Gordon appointment: Committee seeks clarification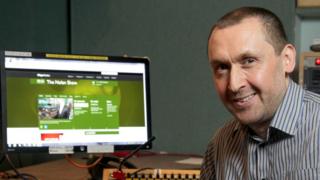 Stormont's Executive office committee is seeking clarity from the first and deputy first ministers about the role of their new press secretary, David Gordon.
MLAs disagreed on whether the committee should examine the matter in detail.
DUP and Sinn Féin representatives argued Mr Gordon's appointment to the £75,000-a-year post had been legal and there was no cause for concern.
The former editor of the BBC's The Nolan Show was appointed last week.
He was appointed after a special legal procedure known as the Royal Prerogative was used by First Minister Arlene Foster and Deputy First Minister Martin McGuinness.
This meant they were able to change the law to enable the post to be filled without it being advertised.
'Rollovers and Chihuahuas'
The DUP's Christopher Stalford told the committee there had been enough "hurly burly" over the appointment.
Mr Gordon had been "dragged through every newspaper", said Mr Stalford.
He added: "People have had their pound of flesh and the man should be allowed to get on with his job."
However, Alliance, Ulster Unionist and SDLP members registered their concern about what they argued was a lack of transparency.
The committee chairman, Ulster Unionist leader Mike Nesbitt, warned that the committee could be seen as "rollovers and Chihuahuas" if it did not challenge the precedent set by Mr Gordon's appointment.
Committee members agreed to write to the Executive office about the matter; Mr Nesbitt said he would return to the committee next week with a draft letter for members to approve.
Mr Gordon is also a former Belfast Telegraph journalist, and following his appointment, the first and deputy first ministers said they wanted him to provide them with expert advice and spearhead the communication of Stormont's policies.