Dissident republican searches: Arrests in Lurgan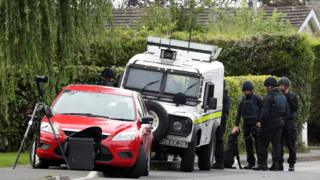 Four men have been arrested after searches in County Armagh by police investigating dissident republican activity.
Police have evacuated an estimated 15 homes in Lurgan's Woodville Avenue area. Forensic teams and police using a sniffer dog have been carrying out the searches.
Three of the men - two aged 22 and one aged 24 - were arrested in Lurgan.
The fourth man, who is 46, was arrested in Coalisland, County Tyrone.
All are being questioned at a police station in Belfast.
DUP MLA Carla Lockhart said police had sent out a clear message: "Terrorist activity will simply not be tolerated."
DUP MP David Simpson said he was worried by continuing dissident activity in the area.
"The security forces are to be congratulated in their work for uncovering this," he added.