Cork: Three children injured in petrol canister explosion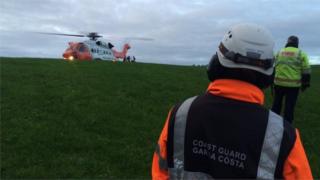 Three young children are being treated for burns in Cork after a petrol canister exploded in their home.
Five-month-old twins and their 17-month-old brother were airlifted to Cork University Hospital on Tuesday evening.
The twins, a boy and a girl, are suffering from moderate burns, their brother has less serious injuries.
Their burns were sustained when a petrol canister accidentally exploded at about 18:30 BST.
The canister was brought into the family home on Tuesday evening and Gardaí are investigating the cause of the fire.
Police and paramedics treated the children at the scene at the family home in Drinagh, near Drimoleague.
The Shannon coast guard helicopter later airlifted the children, accompanied by their parents, to hospital in Cork touching down at about 19:50 BST.
The siblings are understood to have injuries to their bodies.
One of the twins is being treated in the hospital's intensive care unit.
All three children are expected to make a full recovery.