Oil spillage 'from Lisburn to Larne'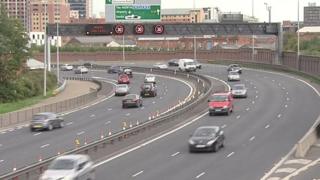 Motorists have been warned about a far-reaching oil spill affecting motorway traffic both in and out of Belfast.
The spillage reportedly stretches from the Lisburn junction of the M1 to Belfast's Westlink and onto the M2 towards the Sandyknowes roundabout.
It is also affecting the A8 towards Ballynure and Larne.
The speed limit has been reduced to 10 mph and the road is closed between the Shanes Hill and Millbrook roundabouts.
Police advised drivers to exercise caution and reduce their speed. They also asked motorists not to discard cigarettes along the road.