Texting drivers: 'No plans' to toughen penalties in NI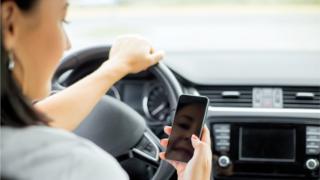 Northern Ireland is the only part of the UK which is not introducing much tougher penalties for using a handheld mobile phone while driving.
Drivers who are caught in Great Britain will see fines doubling from £100 to £200 and will face six penalty points on their licence instead of three.
The new rules are to come into force in England, Scotland and Wales next year.
In Northern Ireland, drivers get three penalty points and a £60 fine and Stormont has no plans to change this.
A spokesperson for Stormont's Department for Infrastructure told BBC News it "will continue to monitor changes being made in Britain to see what can be learned".