Bomber Connor Hughes jailed over list of judges' names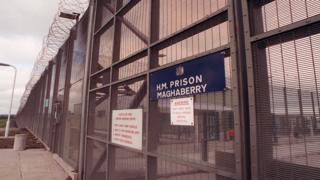 A convicted dissident republican bomber must spend another year in prison after he was caught with a list of judges and PSNI officers in his cell.
Connor Hughes, 24, admitted possessing a document or record likely to be of use to terrorists.
Hughes was eight months into an 11-year sentence when staff at Maghaberry Prison searched his cell and found the list.
He had been jailed in February 2015 for possession of explosives with intent.
PSNI officers stopped Hughes, originally from Altan Close, Dunmurry, at the junction of the Glen Road and Shaws Road in west Belfast on 27 March 2014.
He was carrying a holdall containing a blast bomb.
The list found in his cell at Maghaberry contained the names of 16 police officers and eight members of the judiciary.
On Friday, a judge sentenced Hughes to two years, with one year to be spent in custody and the other on supervised licence following his release.
The year in custody will run consecutive to his Hughes' 11-year sentence for the explosives offence.
"Had you not pleaded guilty I would have considered imposing a stiffer sentence and it would have been between three and four years," the judge told him.