Joint enterprise: NI killers appeal after Supreme Court ruling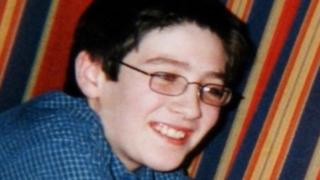 Six people jailed over violent deaths in Northern Ireland are trying to have their convictions overturned because of a ruling on the joint enterprise law.
The law of joint enterprise allowed people involved in a fatal attack to be convicted of murder even if they did not inflict the fatal blow.
But in February, the Supreme Court ruled the law had been wrongly interpreted for more than 30 years.
Those now trying to appeal include the killer of a 15-year-old schoolboy.
Thomas Devlin was fatally stabbed in an unprovoked attack just yards from his family home in north Belfast in August 2005.
His mother, Penny Holloway, led a campaign for the law of joint enterprise to be used to bring her son's killers to justice.
Nigel Brown, one of two men convicted of his murder, started a lengthy prison sentence in 2010.
On Wednesday, however, Brown was one of five prisoners who took part in a Court of Appeal hearing via a video link from jail.
Ms Holloway and Thomas' father Jim Devlin were among those in the public gallery.
'Got it wrong'
The prisoners are all seeking to reopen their appeals based on the Supreme Court ruling on joint enterprise.
Brown's barrister told the court: "This isn't a change in the law, this is a case where the law has been corrected because all of us got it wrong."
The prisoners included Mark Kincaid, one of three men found guilty of murdering hospital porter David Hamilton who was beaten to death in east Belfast in 2004.
The other potential appellants are:
Barry Skinner - jailed for his role in the murder of Alexander McKinley who was shot in the head in east Belfast in 2002.
Peter Greer - convicted of murdering Duncan Morrison and the attempted murder of Stephen Ritchie in a shooting in Bangor in 2011.
Stephen McCaughey - jailed for his part in the killing of Philip Strickland who was shot near Comber in 2012.
The sixth person involved in the case is Brenda Meehan, originally convicted of murdering Jim McFadden who was beaten to death in Londonderry in 2007.
In 2011, her conviction was reduced to manslaughter.
The three Court of Appeal judges heard preliminary arguments on whether they had jurisdiction to hear the cases, or if they should be sent to the Criminal Cases Review Commission (CCRC) which examines potential miscarriages of justice.
Judgment was reserved on the preliminary point on jurisdiction.