British and Irish governments sign Northern Ireland paramilitary treaty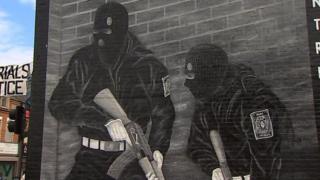 The Irish and British governments have signed a treaty establishing a body to work towards the end of paramilitary activity in Northern Ireland.
Northern Ireland Secretary James Brokenshire signed the treaty with Irish Foreign Minister Charlie Flanagan during his first official Dublin visit.
The Independent Reporting Commission proposed the body to help end last year's political impasse at Stormont.
Mr Brokenshire and Mr Flanagan also held talks on Brexit issues.
The Northern Ireland secretary said no decision has been made on whether the UK will seek to remain in a customs union after it leaves the European Union (EU).
At a news conference, both men stressed they did not want to see a return to the "hard border" of the past between Northern Ireland and the Republic of Ireland.
Mr Flanagan said 30,000 cross the border every day for work, schools and colleges.
"I think it's very important that we factor that into the negotiations between the EU and the UK," he said.
Speaking earlier about the treaty, Mr Brokenshire said: "There was never any justification for paramilitary groups, there is none today and there will not be in the future.
'Wrecked lives'
"The IRC provides for an independent review of progress towards disbanding paramilitary groups which continue to blight our society.
"For generations, paramilitary activity wrecked lives in Northern Ireland, and for many people the repercussions continue."
The IRC's annual reports will be published by the two governments.
The commission may make recommendations to the Northern Ireland Executive to inform future Programme for Government priorities and commitments.
'Landmark day'
The IRC will have four members, with the British and Irish governments nominating one member each and the Northern Ireland Executive two members.
Mr Flanagan said it was "another landmark day for Northern Ireland".
"This is an important step in implementing the Fresh Start Agreement provisions to eliminate paramilitarism and tackle organised crime," he said.