Brexit: Charlie Flanagan 'cautious' over Northern Ireland border reassurances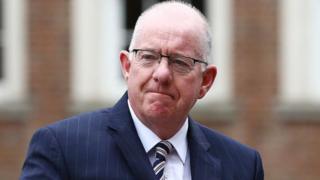 The Irish foreign minister has said he is "cautious" about British reassurances there will be no 'hard border' after Brexit.
Charlie Flanagan was speaking on the eve of Northern Ireland Secretary James Brokenshire's first official visit to Dublin.
He said the border will be key during detailed talks on Tuesday.
Mr Brokenshire and Mr Davis have both said they support keeping an open border.
However, Mr Flanagan said he was "taken aback" by reports that International Trade Secretary Liam Fox is pressurising Prime Minister Theresa May to leave the EU customs union.
The European Union customs border is the biggest in the world and allows countries within it to trade more freely with each other, without tariffs, or taxes on imports.
Mr Fox reportedly wants to leave the customs union to make it easier for Britain to strike trade deals with non-EU countries after Brexit.
Mr Flanagan said: "I was pleased to hear the comments of David Davis last week when he said that there would not be a hard border.
"I would, however, caution on two grounds: firstly I was somewhat concerned and taken aback by comments by the International Trade Secretary Liam Fox during the summer, when he suggested a withdrawal from the customs union.
"I would also stress that ultimately the matter of the border is a decision that won't be determined by the UK and Irish governments, irrespective of how we feel about the issue, but this will be a matter for the remaining 27 EU countries, one of which of course will be Ireland," he added.
Mr Flanagan said he has met with all of his 27 EU foreign minister counterparts and has told them "we don't want a hard or heavily fortified border right across the island of Ireland".