Nacho Novo 'warned of threat from dissident republicans'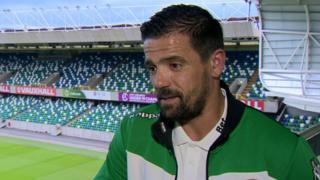 Former Rangers footballer Nacho Novo has been warned by police that he is under a death threat from dissident republicans, it has been reported.
The Spanish star moved to Belfast club, Glentoran, in July. Glentoran's chairman told the Sunday World one of the club's players had been threatened.
Police told the BBC they do not comment on the security of individuals.
Jim Rodgers, a former director of Glentoran, said he was angry and appalled by the dissident threat.
"In my long association with Glentoran football club, I only remember one threat against a player, because Glentoran is very much a cross-community club.
"It doesn't matter what your religion, colour, class or creed is, if you're good enough to play for the Glens, they will want you to be on that pitch for them."
Novo spent six years with Rangers and also played with teams in the US, Poland and his native Spain.