Derry: Runaway lorry crashes into Foyleside Shopping Centre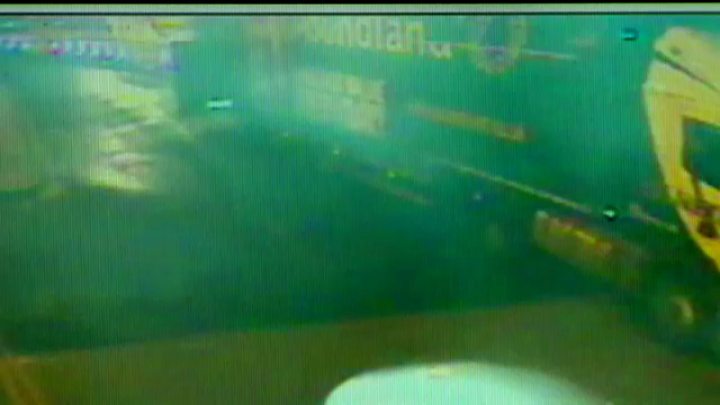 A runaway lorry has rolled down a hill in Londonderry, crashed into the wall of a shopping centre and become lodged under a footbridge.
It happened outside Foyleside Shopping Centre in the city centre on Sunday.
Police said the lorry "rolled away" as it was being unloaded in Ferryquay Street at about 04:45 BST.
It rolled down Linenhall Street and Newmarket Street, hitting walls, traffic lights, bollards and a car before crashing into the building.
No-one was injured in the incident but significant damage was caused.
'Flattened'
Is it not yet known if the lorry rolled away because of human error, a mechanical fault or if passers-by released the handbrake.
Police have appealed for witnesses and said they were "particularly keen to speak with three young males who were in the area of Ferryquay Street around the time of the incident".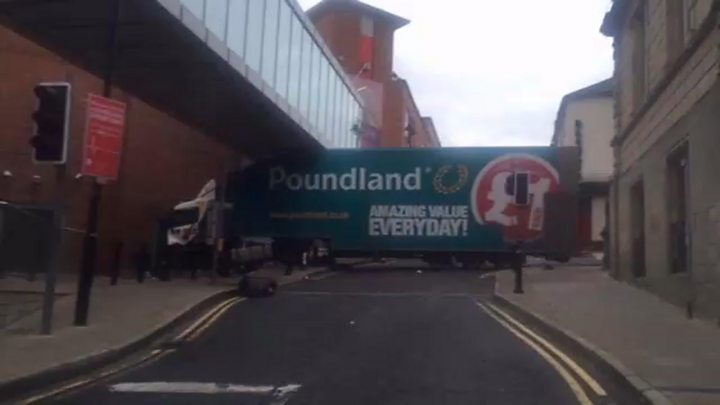 SDLP councillor John Boyle said the lorry "flattened" a number of bollards outside the Millennium Forum before ending up under the bridge.
Mr Boyle said significant damage has been caused to parts of Linenhall Street.
There was a lengthy operation to remove the lorry from the scene.