Affray sentence for Omagh New Year's Eve attack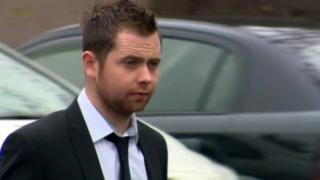 A County Tyrone man acquitted of the "one-punch killing" of 19-year-old Jason McGovern has been given a four-month suspended sentence for affray on the night of Mr McGovern's death.
Mr McGovern died after being attacked in Omagh on New Year's Eve in 2012.
Mark Donnelly, 23, from Greencastle was acquitted of his manslaughter in June.
He was given a four-month prison sentence, suspended for a year, for his involvement in an incident shortly before the fatal attack.
Sentencing him for affray on Friday, a judge said it "was an unsavoury incident undoubtedly fuelled by alcohol".
She said the incident was "spontaneous", adding there was no physical evidence there was any contact made by Donnelly.
The judge also said she accepted Donnelly's remorse and regret at his involvement, saying that since the incident he has "matured and reflected on what has happened".
Donnelly had faced three previous trials over Mr McGovern's death; one was aborted for legal reasons and juries failed to reach verdicts in the others.
His acquittal in June came when the prosecution said it was offering no evidence against him.
Donnelly always maintained he had been wrongly identified by witnesses as being the man who threw the punch which led to Mr McGovern's death.
Fractured skull
Mr McGovern, from County Monaghan, was found dead at a friend's house after he was attacked in the early hours of New Year's Eve 2012 in Omagh.
He had gone out with friends on the night of 30 December, but the attack happened after midnight.
He suffered a fractured skull and died as a result of bleeding on his brain.
Witnesses said he was punched once and struck his head as he fell back to the ground.
A jury at one of the trials was told by a judge that CCTV appeared to show Mr McGovern was the "peacemaker" the night he was attacked.
Donnelly was sentenced on Friday on a charge of "having fought and made an affray" during an incident on the same night in which the jaw of Jason's friend Liam Williams was fractured outside the Terrace Bar in Omagh's John Street.
Five sentenced
Mr McGovern and his friend had been involved in two assaults on the night.
The first incident was captured on CCTV; the second, fatal, incident, in the Weigh Inn bar car park, was not.
Five other young people were sentenced in 2014 for their roles in the first assault.
Mr Donnelly's girlfriend Aisling McAleer, who was 23 at the time of the sentencing and from Slieveard Court, Omagh, pleaded guilty to perverting the course of justice. She was given a suspended sentence.
Aaron Bradley, who was 19 and from Waterworks Road in Omagh pleaded guilty to assaulting Mr Williams. He was given a suspended four-month prison sentence.
James O'Brien, who was 21 at the time of sentencing, and from Riley Road in Omagh, pleaded guilty to affray and received the same sentence.
Liam Chism, who was 17 at the time and from Knockloughran was ordered to carry out 50 hours of community service for affray.
Aaron Davis from Beattie Villas in Edenderry who was 19 at the time was sentenced to four months in prison suspended for three years for affray.