BBC Proms in the Park: Thousands attend Belfast concert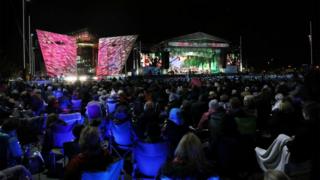 Thousands of people attended the BBC Proms in the Park in Belfast.
The musical event, in its 15th year, took place at the Titanic Slipways in front of about 11,000 people on Saturday evening.
Both Northern Irish and international acts were performing alongside the Ulster Orchestra.
The artists included soprano Lesley Garrett, Broadway performer John Owen-Jones and Londonderry pianist Ruth McGinley.
The event in Belfast was part of the UK-wide celebration of the Last Night of the Proms.
Viewers can watch extracts from the Belfast concert online, and there will also be a highlights programme on BBC Two NI on Sunday, 18 September at 18:00 BST.