Cattle concerns close Fermanagh castle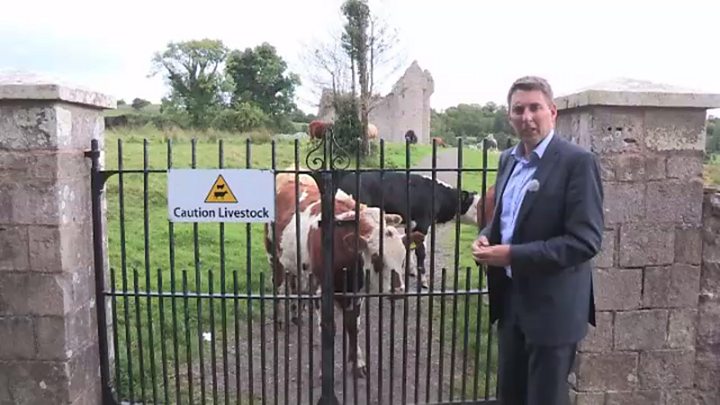 An historic castle in County Fermanagh has been closed to the public for safety reasons.
Concerns were raised as visitors to Monea Castle must travel across a field with grazing cattle from the car park in order to access the site.
The decision follows a recent incident on Devenish Island in which a woman was left in critical condition and her dog died following a cattle attack.
The access gate to the ruins has been locked.
A handwritten sign on the gate says that the castle is "temporarily" closed.
The four-storey plantation castle was built by the rector of Devenish and was completed in 1618.
It was gutted by fire and abandoned in the 18th century and now lies in ruins.
A group who visited the castle in August to take wedding photographs of a bride on horseback said they were prevented from getting in because there was a bull in the field.
Photographer Dianne Little from Letterbreen said: "We hoped to be able to get access but when we came down here we were faced with a bull, a huge bull with a ring in his nose and lots of cattle around it. Cows and calves and everything like that so we couldn't get in.
"I'm a farmer's daughter and you don't go into a field where there's a bull, certainly not even with cows and calves. If there's a newborn calf and a protective mum, it's not a safe environment."
She added: "We felt, this isn't right - we should be able to have access to our local heritage.
"We have lakes, we have mountains, have beautiful views, we have waterfalls but we need it opened up and everybody has to be able to come and enjoy beautiful west Fermanagh."
The castle is privately owned and the surrounding fields are rented out to a farmer, but the public have access rights to visit the monument.
The landowner declined to be interviewed but he told the BBC that the closure is a temporary measure for health and safety reasons.
He said risk assessments had to be carried out and remedial work undertaken such as new fencing.
He added the decision had been taken with the Department for Communities which manages the monument and is responsible for ensuring the public's safety.
Ulster Unionist MLA Rosemary Barton said the closure created a bad impression for tourists.
"At a time when we're trying to encourage tourists into Fermanagh we are actually turning them away.
"Surely these castles can be secured in a way that the farming community can work with the tourists, for example putting a fence around and making sure it's secure, so that everybody has the benefit - tourists have the benefit of the castle, farmers have the benefit of the land."
Mrs Barton had written to the Minister for Communities after the garden at Tully Castle was dug up and replaced by grass in an act which some people in the local community described as "an act of cultural vandalism".
She said more must be done to encourage tourists and have greater access to historic monuments.
"Fermanagh is certainly not at the moment making the most of its heritage - that is what Fermanagh is famed for", she said.
The Department for Communities said many of the 190 individual and groups of historic monuments in State Care it manages are located on or adjacent to farmland.
A spokesperson said: "Most sites are open to the public, free of charge. However, as with any visit to the countryside, the public are encouraged to follow the Countryside Code and to take care when entering lands that may have livestock present.
"Access to Monea Castle is via a private lane and across open farmland. In agreement with the landowner, access to the castle has been temporarily closed so that the present access arrangements can be amended.
"It is anticipated that works will be conducted during September, following which the castle access will be re-opened."
The Health and Safety Executive NI (HSENI) advice is that where possible countryside walkers should avoid crossing fields where cattle are grazing, and they warn that cows with calves can be just as aggressive as bulls.