Jenny Palmer apologises for 'refugee dog' Facebook comment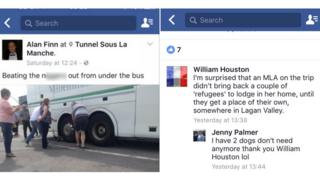 An Ulster Unionist MLA has apologised for appearing to compare migrants trying to cross the Channel with dogs.
Jenny Palmer was replying to a Facebook comment expressing surprise she had not brought a "refugee" home from a Somme commemoration event in France.
"I have 2 dogs don't need anymore thank you," she wrote.
On Tuesday, Mrs Palmer said the comments "do not reflect my own views" and apologised for any hurt her "careless words" may have caused.
She had been on a coach trip to the Somme with a man who posted an image of a bus being inspected at France's Channel Tunnel, with a post including an offensive, racist word.
Bad grammar?
In reply to that post, another Facebook user suggested that the Lagan Valley MLA might have brought some refugees home to Northern Ireland after the trip.
Ms Palmer replied: "I have 2 dogs don't need anymore thank you William Houston lol".
When challenged by another Facebook user, the MLA explained that her intention had been misunderstood.
She said it was "perhaps bad grammar, just no room at 18a for anymore visitors sorry you misunderstood and will try better".
The posts have since been deleted.
In statement of apology released to the BBC's Nolan Show on Tuesday, Mrs Palmer said:
"I would like first of all to apologise for any hurt that my careless words may have caused. These comments and actions do not reflect my own views.
"My words, made in reply to a Facebook comment, were intended as a joking remark regarding the busy-ness of my own home.
"The intention was to imply that between myself, my husband, our dogs and my daughter, we would struggle to accommodate anyone else.
"This was meant as a simple joke."
A UUP spokesperson said: "Jenny Palmer MLA has apologised for her comments and accepts that they were wholly inappropriate."
The spokesperson added: "We should respond to human tragedy with compassion."