PSNI recruitment: Small rise in successful Catholic and women applicants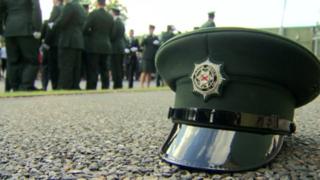 There has been a small increase in the numbers of Catholics and women applying to join the PSNI but both were still under-represented in the latest drive.
From 875 successful applicants last year, 25% were from a Catholic background, compared to 22% in 2014.
Women made up 38% of the successful applicants in the 2015 recruitment drive, compared to 35% the year before.
The Belfast Telegraph reported that the PSNI has commissioned research into how it recruits under-represented groups.
Annual recruitment drives were carried out over the last three years and the Catholic applicants who made it through to the PSNI's "merit pool" rose from 19% in 2013, to 22% in 2014, through to 25% last year.
However, none of the successful applicants from the 2015 drive has been appointed yet as the training process can take more than a year.
'50:50 recruitment'
Ulster University criminology expert Dr Jonny Byrne said the PSNI might have to re-introduce its controversial 50:50 recruitment policy to tackle the under-representation of Catholics.
The process was introduced in 2001 as part of the Patten policing reforms.
It was brought to an end in 2011 when the then Secretary of State Owen Paterson said that with almost 30% of officers from a Catholic background, the practice could no longer be justified.
Speaking to the Belfast Telegraph, Dr Byrne said representation was "key to confidence in policing".
"50:50 was a necessary requirement here for policing reform. We maybe need to revisit that conversation around the reintroduction of 50:50."
However, outgoing Policing Board member Nichola Mallon, of the SDLP, said she would prefer to tackle under-representation in a new way rather than "going back to targets that were set in the past".
"I would like to see us making recruitment work and making the PSNI an attractive offering for people from the Catholic community and from ethnic minorities and with disabilities.
"I would like to see us get there, rather than have to impose restrictions," added the North Belfast MLA.
"Let's try to get there by doing to the right thing in terms of recruitment, which is what happens in a normal, healthy society."
The PSNI's head of human resources, Jude Helliker, said: "We are committed to ensuring that the composition of the Police Service of Northern Ireland is representative of the whole community.
"It is anticipated that the research will be completed in the autumn, and the findings will be presented to the Northern Ireland Policing Board in due course."